Speaker: Professor Jeff Johnson, Ph.D., USF Department of Computer Science
Jeff Johnson will present highlights from his new book Designing User Interfaces for an Aging Population: Towards Universal Design.
As the global population becomes more reliant on digital technology, the percentage of adults over 55 is growing, especially in the developed world. Older adults can in principle benefit greatly from digital technology. However, many older people experience age-related changes that impact their ability to use digital technology, leading to experiences that are difficult, frustrating, and off-putting. This talk will present:
• Demographics of users of digital technology by age.
• Examples and demonstrations of age-related factors affecting ability to use computers and online services.
• Design guidelines that can help product developers avoid alienating older-adults.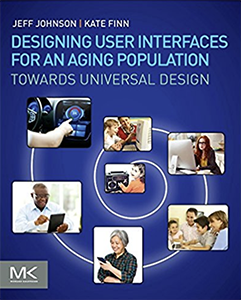 AGENDA:
6:00 – 6:30pm – Registration + Networking
6:30 – 7:15pm – Presentation/Talk
7:15 – 7:30pm- Q&A
7:30 – 8:00pm – Networking